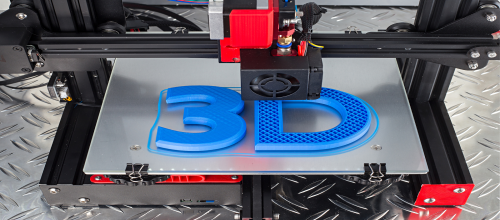 3D tisk je čím dál oblíbenější a už dávno není jen doménou specializovaných společností. Na 3D tiskárně si můžete vyrobit třeba vázu, dekorační sošku nebo trsátko na kytaru. Jak na to?
3D tisk funguje na několika různých principech, v domácnostech je ale nejrozšířenější tzv. FDM/FFF tisk (fused deposition modeling, resp. fused filament fabrication) – a právě o něm budeme mluvit. Tato technika funguje na poměrně jednoduchém principu: plastová struna (viz dále) prochází tiskovou hlavicí, kde se roztaví a následně je nanesena na podložku, případně další (již ztuhlé) vrstvy. Postupným vrstvením plastu vzniká výsledný objekt.
K 3D tisknutí potřebujete – vedle samotné tiskárny – 3D model objektu v elektronické podobě a plastové struny (filamenty).
Počítačový 3D model
Elektronický, trojrozměrný model určuje výsledný vzhled vytisknutého objektu. Podle jeho instrukcí se řídí pohyb tiskové hlavy; model v sobě může mít také instrukce pro tisk podpůrných struktur, které se po vytisknutí odstraní (příkladem jsou např. ozubená kola, ze kterých se vylomí kousky plastu, které při tisku drží jednotlivé součástky pohromadě).
3D modely si můžete vytvořit sami, např. v bezplatné aplikaci Ultimaker Cura či v online nástroji TinkerCAD (ale pozor, je to poměrně náročné), popř. si je zdarma stáhnete z některé databáze 3D modelů. Populární jsou např.:
Thingiverse,

Cults 3D,

Pinshape,

3DShook.
Aplikaci pro tisk stáhnete ze stránek výrobce tiskárny a soubor s 3D modelem do ní jednoduše nahrajete.
Výběr filamentu
Samotné objekty se tisknou ze zmíněného plastu, které se dodává ve formě strun (tzv. filamentů). Existuje celá řada plastových materiálů a každý z nich se hodí pro trochu odlišné účely. Některé navíc nejsou vhodné pro úplné začátečníky (vyžadují preciznější manipulaci a často i nahřívanou podložku). Mezi nejběžnější patří:
PLA filament – ekologický materiál (v přírodě se po vyhození rozkládá), který je navíc velmi snadný pro tisk. PLA struny jsou ideální pro začátečníky: taví se při teplotě 180 °C a nevyžadují vyhřívanou podložku. Nevýhodou je relativně malá pevnost a tepelná odolnost vytisknutých objektů (snadno se rozbijí).
ABS filament – jejich výhodou je vysoká pevnost vytištěných předmětů a odolnost proti vyšším teplotám. K tisku je ovšem podložku potřeba vyhřát na cca 80 °C, jinak nanesená tavenina ztuhne příliš rychle a zkroutí se.
Vedle těchto materiálů dále existují např. PETG, TPE či HIPSU filamenty. Využívají se také nylonové struny.
Další zařízení k 3D tisku
Alternativou k 3D tiskárně je tzv. 3D pero. Funguje v zásadě na stejném principu (prochází jím plastová struna, která se taví), na rozdíl od tiskárny s ním ale můžete volně manipulovat. Umožňuje tedy doslova "kreslit" ve vzduchu. Zvládnutí tohoto zařízení vyžaduje určitý cvik a hodí se spíš pro děti.
Jestli vás zajímá jak byste při výběru 3D tiskárny měli postupovat, je potrebné určit, k čemu budete 3D tisk využívat. V domácích podmínkách máte v zásadě dvě možnosti výběru: jak sme spomínali tiskárnu s FDM/FFF technologií, nebo tiskárnu postavenou na SLA technologii. Dokáží vyrobit řadu užitečných a dekoračních předmětů, a to často mnohem levněji než při běžném nákupu.